ALABAMA'S ADVENTUROUS SIDE

Franklin County anchors the southern edge of the Appalachian Mountain foothills and with that comes an abundance of spectacular outdoor leisureopportunities. Click HERE to explore Franklin County.

FESTIVALS

Franklin County celebrates our heritage, lifestyles, & patriotism with a number of truly unique & special events held each season of the year. To discover our current lineup of exciting events, click HERE.
Community Trunk or Treat will be held on October 31, 2016 in Downtown Russellville on Jackson Avenue, from 6 p.m. – 8 p.m.  If you are interested in participating, contact the Franklin County Chamber of Commerce for space reservations (256.332.1760 or info@franklincountychamber.org).  Cars, Trunks & tents are encouraged to decorate in their selected theme.  Bags will be given by the Chamber at each entrance, Lawrence Street and Marion Street.  All children are welcome and encouraged to dress up!
All Franklin County Christmas Parades begin at 6 p.m.  For more information regarding parade entries, please call the contacts listed below:
December 1st – Russellville (Franklin County Chamber 256.332.1760)
December 5th – Red Bay (City Hall 256.356.4473)
December 6th – Vina (Town Hall 256.356.4996)
December 8th – Phil Campbell (Town Hall 205.993.5313)
Welcome to Franklin County, Alabama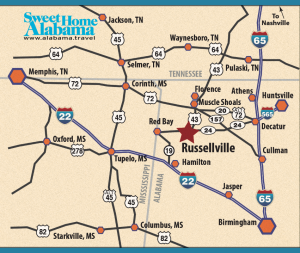 If you're looking for a comfortable, safe and affordable place to live, Franklin County may be the place for you. We have much to offer. Franklin County has skilled labor, strong educational institutions, quality life styles, health care facilities, business and industrial sites, municipal airports, competitive energy costs and supportive local governments. Franklin County and city schools rank among the highest in the state and we were first in the state to host a public junior college, Northwest Shoals Community College. We have excellent medical facilities and physicians. And some of the friendliest people in the world are from Franklin County!
Our promise as your Chamber of Commerce is to build community value into every area while delivering professional expertise, exceptional customers service and quality service.