What does the Chamber do?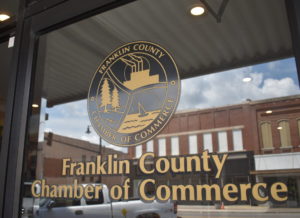 The Chamber provides many services to our community including business referrals, exposure through advertising and newsletters, proposal listings, educational opportunities, legislative news, and economic materials. Along with the Economic Development Authority, we sponsor and annual countywide Awards and Appreciation banquet for all Chamber members, business and industry. We sponsor the Franklin County Junior Leadership program for all high school juniors in our county. We enjoy doing Easter Egg hunts each Easter for our little ones in Phil Campbell, Red Bay, and Russellville. The Chamber always has a presence at The Relay for Life.  Each year we give two $500.00 scholarships to a Franklin County graduate in memory of Jim Webb of Russellville and Matt Hester of Red Bay. Along with two scholarships awarded to Franklin County Junior Leader graduates from the Franklin County School System and the Russellville City School System.  
The Chamber is also involved with the Founders Fest in Red Bay and the Hoe Down Festival in Phil Campbell.  As well as the annual Trunks of Treats on October 31st in Downtown Russellville.  Last but not least, the Chamber sponsors the extremely popular Watermelon Festival. This festival brings thousands of visitors to our area each year along with many activities such as the Watermelon Beauty pageant, local talent in the historic, air-conditioned Roxy Theatre, and free outdoor concerts. As you can see the Chamber is a busy place and hopefully you feel we are an important asset to our community.