---
2023 Franklin County Chamber of Commerce Awards
Distinguished Service Award
Russellville – Betsy Green
Phil Campbell – Wayne Welborn
Red Bay – Jacqueline Parsons 
County At Large – Sue Raper 
Beautification Award
Russellville – Russellville High School
Phil Campbell – Gigi's Unique Finds
Red Bay – Blue Boys, LLC
County At Large – 
Business of the Year – CB&S Bank
Roger Bedford Unsung Hero – Northwest-Shoals Community College
Volunteer of the Year – Natalie Bendall
Hall of Fame Award – J.C. Weeks
Franklin County's Best Kept Secret Award – Shelby Grissom Memorial Fashion Show
Franklin County Development Authority Awards
Excellence in Industrial Growth Award – Leisure Creations
Industrial Support Award – Russellville Municipal Airport
Industry of the Year – G&G Steel
Educator of the Year: 
Russellville City – Nikki Watts 
Franklin County – Trevor Allison
Robert I. Rogers Award –
---
Franklin County Declared the
Watermelon Capital of Alabama
In 2013, Senator Roger Bedford and Representative Johnny Mack Morrow was successful in passing a resolution in the Alabama Legislature declaring Franklin County "Watermelon Capital of Alabama".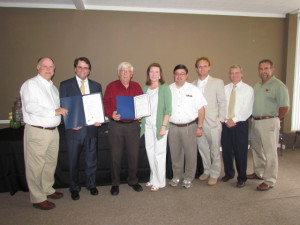 From Left to Right: Representative Johnny Mack Morrow, Senator Roger Bedford, Bobby Bolton originator of the annual Watermelon Festival, Cassie Medley, Franklin County Executive Director, Russellville Mayor David Grissom, Kreg Kennedy, District Field Representative for U. S. Senator Robert Aderholt, Franklin County Probate Judge Barry Moore, Franklin County Chamber of Commerce President (2013) Mike Shewbart.
We are updating the Chamber website and need your assistance.
Please forward your business's website address to [email protected].