WATERMELON FESTIVAL 2020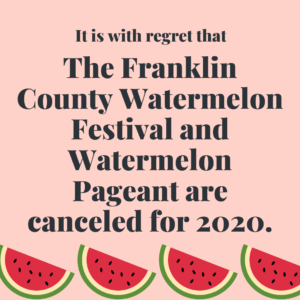 Everybody is aware of the unprecedented times that we are in with COVID-19. After consulting with Russellville City Officials, the Franklin County Health Department, and the Alabama Department of Public Health, and with their guidance, The Franklin County Chamber of Commerce's Board of Directors has reluctantly decided to cancel this years 40th Annual Franklin County Watermelon Festival scheduled for August 21-22, 2020 and the Watermelon Pageant scheduled for July 18, 2020, We were hoping that by now Franklin County's numbers would be leveling instead of increasing. Singce the numbers are growing, it is in the best interest for the safety and health of our volunteers, vendors, and festival guests to cancel this year. We anticipate the virus being a memory of 2020, and we will be able to hold the 40th Franklin County Watermelon Festival on August 20-21, 2021. In the meantime, we will be praying for our County and our Country. 
In anticipation of numbers leveling and decreasing over the next months, the Franklin County Chamber is planning a new event for October. Look for details on our website, Facebook, and Instagram in the near future.
May God bless you and our Country!
---
The Franklin County Watermelon Festival began in 1981 and is the largest festival in Franklin County.
This spectacular family event offers two days of non-stop music, contests and entertainment, as well as, a pageant, arts & crafts, 5k run, antique car & truck show, tasty festival foods, tractor show, and a slice of FREE watermelon!
______________________________________________________________________________
Franklin County Declared the
Watermelon Capital of Alabama
In 2013, Senator Roger Bedford and Representative Johnny Mack Morrow was successful in passing a resolution in the Alabama Legislature declaring Franklin County "Watermelon Capital of Alabama".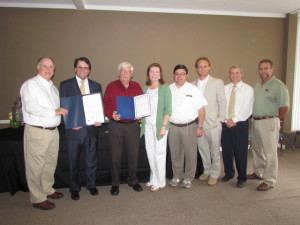 From Left to Right: Representative Johnny Mack Morrow, Senator Roger Bedford, Bobby Bolton originator of the annual Watermelon Festival, Cassie Medley, Franklin County Executive Director, Russellville Mayor David Grissom, Kreg Kennedy, District Field Representative for U. S. Senator Robert Aderholt, Franklin County Probate Judge Barry Moore, Franklin County Chamber of Commerce President (2013) Mike Shewbart.