Franklin County Brochure Franklin County Chamber of Commerce Awards Distinguished Service Award Russellville-Rex Mayfield Phil Campbell-Barbara King Red Bay-David Tiffin County At Large-Shannon Oliver Beautification Award Russellville-Southern Homes Phil Campbell-Phil Campbell High School Red Bay-Weatherford Park County At Large-Rock Bridge Canyon Equestrian Park Business of the Year-Backwoods Grill & Fish Camp Roger Bedford Unsung Hero-Jackie Ergle Volunteer of the Year-the late Brian Heath Glover Hall of Fame Award-Roger Bedford Franklin County's Best Kept Secret Award-Red Bay Museum Franklin County Development Authority Awards Excellence in Industrial Growth Award-Innovative Hearth Products Industrial Support Award-NWSCC-Career Tech Department Industry of the Year-Sunshine Mills Educator of the Year Russellville City-Lori Alford Franklin County-Derek Ergle Robert I. Rogers Award-Mike Madden Franklin County Declared the Watermelon Capital of Alabama Senator Roger Bedford and Rep. Johnny Mac Morrow was successful in passing a resolution in the Alabama Legislature declaring Franklin County "Watermelon Capital of Alabama"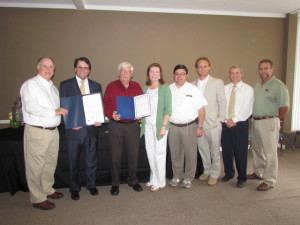 From Left to Right: Representative Johnny Mack Morrow, Senator Roger Bedford, Bobby Bolton originator of the annual Watermelon Festival, Cassie Medley, Franklin County Executive Director, Russellville Mayor David Grissom, Kreg Kennedy, District Field Representative for U. S. Senator Robert Aderholt, Franklin County Probate Judge Barry Moore, Franklin County Chamber of Commerce President Mike Shewbart.
We are updating the Chamber website and need your assistance. Please forward your business's website address to director@franklincountychamber.org.